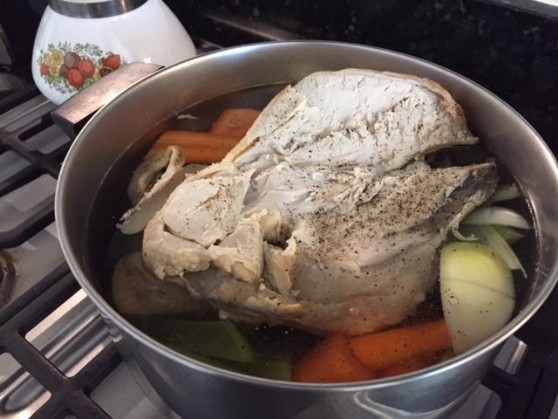 Spring time head colds mixed with allergies make me think of one thing- Mom's Turkey Rice Soup! We had a turkey breast on Easter and turned the leftovers into soup today. My mom never taught me how to make her soup directly but I must have "absorbed" her technique. As she got older and more forgetful, she actually asked me how to make her own soup. Bittersweet to say the least.
The recipe is simple.
Put your turkey bones with leftover meat in a large stock pot. Cover with water. Use your judgement as to how much water/soup you want. Remember, once the bones bones are removed the liquid level will be reduced. Add 3 carrots, 2 celery stalks and one medium onion. I leave the carrots in large pieces as well as the celery. Onion should be quartered. Add seasonings like salt, pepper, celery seed, Parsley and what ever else you like. Bring to a boil. Reduce heat and simmer for 60 to 90 minutes. Let cool. Strain into another pot. Add cooked carrots. Discard other stuff but salvage some turkey meat and add to your strained soup. You can eat the soup immediately or let cool, refrigerate and have later. Sometimes it's best to let the soup "rest" for awhile. Seems like it always tastes better heated the second time around. Cook rice and add to your soup or bowl, whichever works best for you.